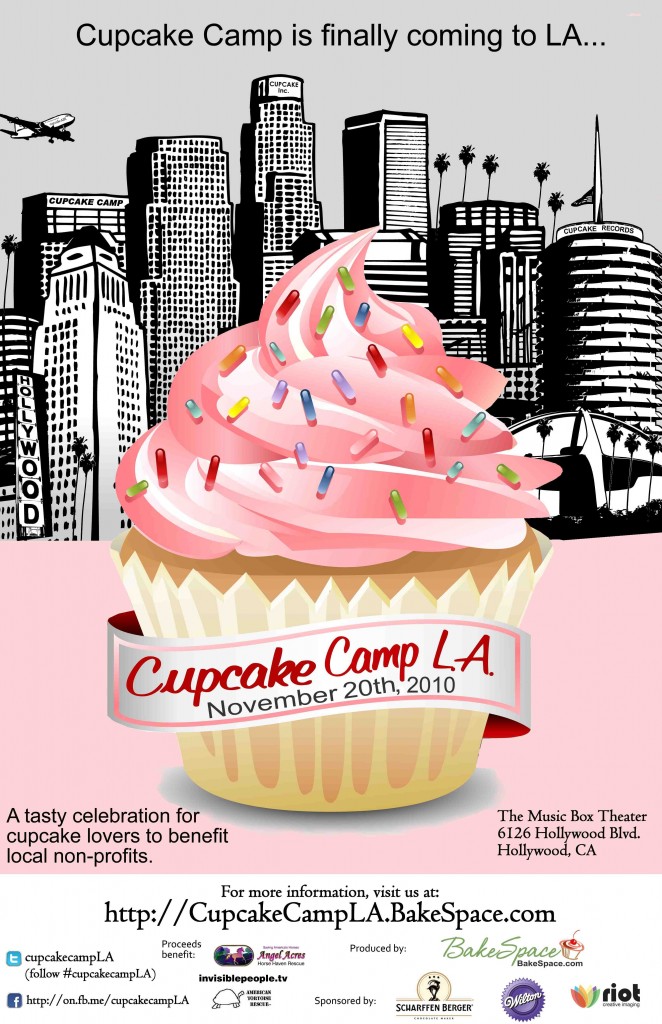 Cupcake Camp LA is A tasty celebration for cupcake lovers to benefit non-profits. The global "Cupcake Camp" phenomenon is heading back to LA in 2013 for a uniquely delicious charity fundraiser with a style befitting the showbiz capital of the world.
VISIT CUPCAKE CAMP LA
We are still looking for our venue and over 300 local bakers have signed up to participate in our next event. Check out the commercial and amateur bakers who participated in our 2010 event!
Proceeds from Cupcake Camp L.A. 2013 will benefit nonprofit organizations yet to be announced. Previously, we worked with Angel Acres Horse Haven Rescue (a nationally-recognized rescue that prevents equine abuse and saves retired racehorses from slaughter), InvisiblePeople.tv (which empowers homeless people to tell their stories and connect with support services via online social media) and American Tortoise Rescue (which provides sanctuary and advocates to protect turtles and tortoises all over the world). If you'd like to have your non-profit work with Cupcake Camp LA, please email us at Babette at bakespace dot com.
Cupcake Camp LA is produced by Los Angeles-based BakeSpace.com, the popular online food community and DIY cookbook publisher. The family-oriented event features a special kids cupcake decorating section.
It's official… the City of LA has created a proclamation celebrating the awesomeness of Cupcake Camp LA! This proclamation will be at our event and it's beautiful! Thank you Los Angeles City Council President Eric Garcetti for making this possible! We're so excited to share it with our cupcake friends!
SEE THE CITY PROCLAMATION