COME FOR THE FOOD. STAY FOR THE CONVERSATION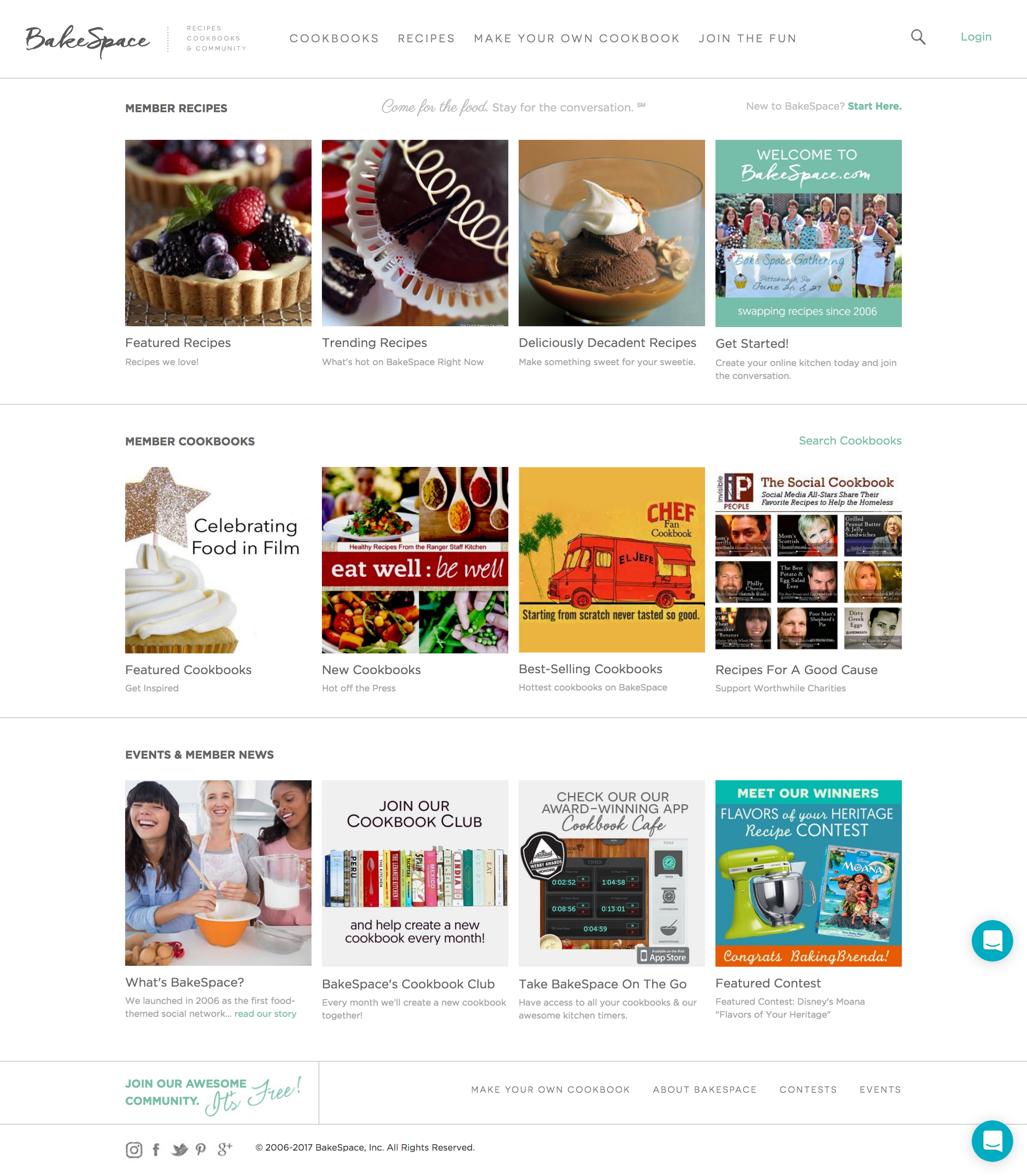 Gathering in the kitchen is a uniquely social tradition that connects people from all walks of life. That's because the kitchen is where we go when we're hungry… not just for food, but for friends, family and great conversation. BakeSpace is all about preserving and reinventing this tradition in cyberspace. We're a grassroots online community where people from around the world gather to share recipes, build new friendships, learn from one another and express their passion for all things food-related.
HOW IT WORKS
On most recipe sites, the journey begins and pretty much ends with finding a recipe. But on BakeSpace, finding a recipe is just the beginning of the journey. As a BakeSpace member you can post, search and swap recipes in real-time, and our unique recipe swap feature ensures that you'll always know what your friends are cooking. You can also build and customize your own "online kitchen," raid the "virtual pantry" (forums), upload videos, create blogs, get inspired, share your passion and learn from other members by tapping into our first-of-its-kind mentor program.
A GRASSROOTS COMMUNITY
BakeSpace is an independent, grassroots community created by and for people who enjoy cooking, baking and hanging out in the kitchen.The site was launched in August 2006 by media producer (and avid baker) Babette Pepaj as the Web's first true food social network. Membership is free, and the site is as easy to use as making toast. If you'd like to give the community a test-drive, check out Babette's favorite cupcake recipe (Devil's Food Chocolate Cupcakes with Ganache Centers and Frosting), which she swears has made grown men cry.
FOR PEOPLE WHO BELIEVE THE KITCHEN IS THE MOST IMPORTANT ROOM IN THE HOUSE
Take a look around BakeSpace and you'll see that the recipes are as creative, passionate and diverse as the members who posted them. Members range from teenagers just starting to explore the culinary lifestyle to great grandparents who want to share and catalog their treasured family recipes. What brings them together is their passion for food and desire to learn from one another. Whether you rely on the microwave or like to create gourmet meals from scratch, the BakeSpace community is sure to have what you're looking for.
VISIT BAKESPACE.COM